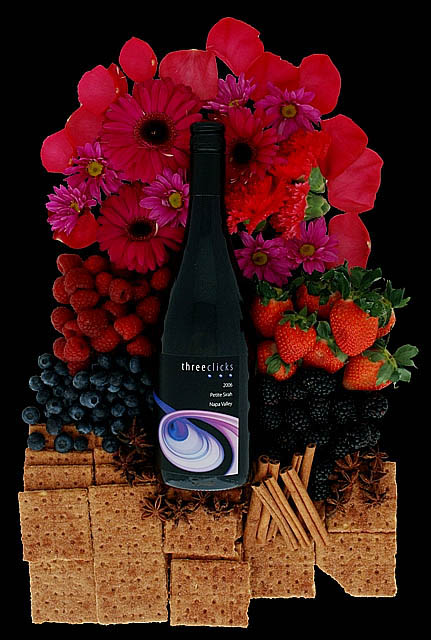 The Vineyard:
Our 2011 Napa Valley Petite Sirah comes from three small vineyards located in Calistoga.  The first, a family run vineyard called Citron, was planted to Petite Sirah in 2004.  We work closely with the Citrons throughout the growing season to achieve the best quality fruit for Three Clicks.  Our second Petite Sirah source comes from Gary Branham's Obsidian vineyard.  Gary is a well established grower and good friend.  He farms his vineyard immaculately, making sure that every vine and every cluster is in perfect condition.  The third Petite Sirah comes from the famed Frediani Vineyard in Calistoga. The Frediani family is one of the foundation families of the Napa Valley, now farming the same land for four generations. We feel honored that all our growers trust us with their fruit.  We blend the wines together in early January to achieve a complex and fruit forward expression of Petite Sirah.  The 2011 growing season was unusual, with above average rainfall and a very cool and wet fall. This lead to a very long and cool growing season.  The rocky soils in these vineyards combined with the cool growing season produced a Petite Sirah that is intensly colored and packed full of boysenberry and blueberry jam characteristics.
The Winemaking:
These small lots of Petite Sirah were hand picked, destemmed, and lightly crushed into bins.  They were punched down by hand three times daily during the peak of fermentation.  Color extraction and tannin were closely monitored to achieve a robust full bodied wine with balanced tannin.  The wine was pressed off at dryness, and aged in 22% new French Oak and 10% new American oak barrels for a period of 15 months.  We bottled the wine in January of 2013 with the goal of preserving the fresh fruit character of these vineyards.  The wine was released in March of 2013 and bottled under screwcap.  We feel this is the best closure for our wines and the wine should age and hold its fruit for a very long time.
Winemaker's Comments:
Our wine has aromas of blackberry jam, boysenberry, blueberries, black currants, and strawberry.  There are undertones of graham crackers, brown spices, and rose petals from the oak barrels we use to age this wine.  The wine is full bodied with a long velvety tannins.  It finishes with a beautiful interplay of black cherries, toasted oak, and cinnamon.  We hope you enjoy it as much as we do.
· 100% Petite Sirah           
· 100% Napa Valley
· Harvest Dates: Sept 29 & Oct 14
· Bottling Date: Jan. 15th, 2013
· 125 cases Produced
· Alcohol: 14.3%
· Retail Price $38
2011 Petite Sirah
Napa Valley
125 cases produced
$38 per bottle